General Use Trailers Perth
Whether it's gardening, handyman, trade or home use, we have the the most versatile general use trailers in Perth and Australia wide.
Constructed from the highest quality, high tensile, fully galvanised steel, the Erde and Daxara range of general use trailers combine the benefits of a very robust, rust free construction with a lightweight, monocoque design. The outcome is a range of trailers that can take anything you throw at it whilst still being easy to tow, store and modify to your requirements.
Regardless of the size, all of our trailers can be fitted with a huge range of accessories such as lockable, gas strut operated lids, mesh cages, 30-60cm waterproof canopies, ladder racks and roof racks etc., making them the most versatile general use trailers in perth.
Shipping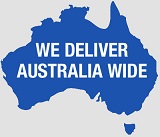 We have an established relationship with our preferred transporter and as such are able to deliver our trailers Australia-wide at a very reasonable cost. With a major depot located in each State Capitol, collection by the Customer is made easy and cost effective.
Send us a message with your location and preferred trailer and we will get a firm quote back to you within 48hrs.
You must install Adobe Flash to view this content.
---
Call us today on 0408 083 221 to find out more
---