Testimonials
Why ERDE Trailers are taking Australia by storm!
Just to let you know that all went well with our maiden trip and the kids LOVED it!  We're off again next weekend for a bit longer.
We managed to put it all together without too much trouble and it was super simple to put back down!  It was roomy enough for us so my worries were unfounded and it actually felt like a little palace!  We're so thrilled with it.
Thank you so much for your fantastic customer service, we felt like we'd really made the right decision on where we decided to purchase which is a big thing when you're investing so much money. 
Best wishes
---
Hello Steve,
 
Outstanding, exceeded expectations. We can now bring more stuff camping (including bikes) and with the extra storage it now takes half the time to pack up. Trailer is so small you hardly know you are towing it, and it takes up very little room in the garage. European quality is also great to have in the age of "made in China".
---
Hi Steve
We just wanted to give you some feedback about our first use of the camper trailer, an overnighter at Dwellingup.  Our Corolla pulled the camper (a Daxara 198 trailer fitted with an Oztrail 7 foldout tent) easily on the flat road and with only minor loss of speed going up the steep hills.  The setup was quick and easy - less than five minutes which is pretty good considering our limited experience with it so far, and done in semi-darkness.  Packing up was just as easy and quick.
Being lightweight and compact, the camper is easy to manoeuvre by hand either in the bush or at home - we park it sideways at the end of our single-car-wide garage.
Thank you again for selling us just what we were looking for - an inexpensive, lightweight camper which we can tow comfortably behind a small car.  We are looking forward to using it a lot in the future.
Cheers
---
Hi Steve,
We recently returned from a trip to Esperance, Bremer Bay and Peaceful Bay towing our Erde Daxara 158 with lock down cover. We have added a rack so that we can camp in style. Our small trailer carried everything for 5 star camping and was easily pulled by our Tucson City SUV on the trip. It always attracts lots of attention and positive comments when we pull up on the road or in a caravan park. An excellent trailer and so easy to move around without the car.
Thank you!
---
Whilst we haven't used our 198 camper/trailer extensively to date, we are delighted with its performance.  Not only is it compact, light to tow and easy to erect, it is very manoeuvrable.  In a tight spot, rather than trying to back in, it is easy to unhitch and push into place.  This flexibility makes setting up a breeze and gets you started on your holiday quickly and without any fuss.  'Jess' our red cloud kelpie, loves it too!
---
We purchased a Tourlite "Getaway" at the 2010 Perth Caravan and Camping Show. On taking delivery of the Camper Trailer in early June 2010 we towed it home to Albany behind our 2001 Hyundai Elantra. The Camper Trailer was so easy to tow that it was easy to forget that it was behind us.
On getting the trailer home we outfitted it over the next couple of weeks with a water tank, a camp kitchen and some storage boxes.
---
G'Day
I wish to thank Tourlite Trailers for their camper trailers as I purchased the Getaway Plus last Christmas and took it away to Busselton. I had to laugh as to how easy it was to set up- no more large tents! Furthermore, the carrying capacity of the trailer was surprising and the trailer itself was light and easy to manoeuvre. Folding up the tent was even easier.
Many campers came to look over the trailer – just made for great camping. Loved it- best purchase I have ever made for camping.


---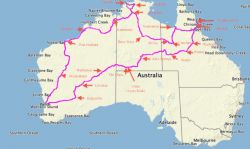 OUR WONDERFUL ERDE 198 TRAILER + OZTRAIL CAMPER 
We were so enthusiastic about our 198 ERDE trailer and the 12,500-kilometre holiday we had just completed that Steve asked us if we would mind writing a testimonial for them. Delighted, I hope it helps some of you in your decision-making.
We had booked a one-week holiday for June 2010 at the luxury Palm Cove Resort, not far from Cairns, in Northern Queensland and we both decided we would like to 'do the top end' and not simply fly. Since we retired in 2002 we had been up the coast to Broome many times calling at all the little out of the way places, both by Toyota Hi-Ace Van, 16' Jayco Caravan pulling with a Nissan Patrol 4500 Ti and by rented motor home. All the above have their merits but this time we thought we would take a small tent for emergencies and rent chalets and stay in hotels when available.
---
Just a few lines to let you know how pleased we are with our purchase of our Escape Camper Trailer. In the 18months since the purchase we have had 3 or 4 trips away and you do not even know you have the trailer behind the X-Trail. I did a fuel test on two of the trips and found we were getting 8.9 ltrs per 100Klm and that's fully loaded, as opposed to around town of 8.4 ltrs per 100Klm. I cannot help bragging to how value for money Tour- Lite Camper Trailers are.
Many Thanks
---
I just wanted to come back to let you know that our first camping trip with the "new addition to the family" the Getaway was a huge success. My wife and I are very happy we made the move and got you to sort it all out for us. Setting up camp is now a breeze and sleeping on the queen bed has never been better.
Thanks again, Kind Regards.

---
Gave the girl (Getaway Plus) a bit of a test run and she's a little pearler. By the way I'll be wearing my hat and telling everyone where to get a beaut camper trailer with good service, once again cheers.
---
Our trip took us over 5,000 kilometres from Perth through Central Australia and up to Darwin, visiting a number of Aboriginal communities in WA, SA and NT. About 2000 kms was on unsealed roads. These roads are much better than they were when we first started driving these roads thirty years ago, but there were still plenty of corrugations, rough sections and bulldust.
At times I found my speed had built up to over 125 kmph on better sections of dirt roads, probably averaging at least 90. The fuel consumption with the Hyundai Sante Fe diesel auto showed the benefits of a lighter trailer 10.8 litres/100km [26mpg].
The Daxara trailer is very well designed and built. I was curious to see how a light trailer with 13inch wheels would handle the conditions, having previously owned two heavy 'off-road' camper trailers with much larger wheels. I had no reason for concern it never looked like giving any trouble. It was light enough that it didn't sink deep in soft sand and cause a lot of drag on the vehicle.
To sum up: a really great camper trailer combination that is far better than anything else I have seen or used.
---
Since purchasing The Getaway from you I have had a lot of fun in it. I have found that it is easy to set up and it tows very well behind my small car. Being a 'Baby Boomer' in my sixties, I needed something that I could move around by myself. I certainly have been able to do that, and plan to have many more trips away with the Camper.
Kind Regards

---
---
Call us today on 0408 083 221 to find out more
---